MOBILE MARKETING APPS PANEL
All you need to interact with and get to know your mobile users
Mobile marketing is an essential component of any project, in both B2B and B2C. User engagement and user knowledge are fundamental notions that are essential to the success of your application. Our m-marketing experts can help you to develop a suitable strategy, adapted to your business:
To reach the people who really matter: YOUR TARGET

To engage your mobile community, so that your mobile app is used again and again

To get to know your users better and offer them an innovative, personalised user experience
Marketing experts, make your lives easier with Apps Panel's intelligent mobile marketing tools! Learn to master this innovative communication channel with the help of our mobile marketing experts!
Complete M-Marketing Solution and immediately available
Plug & Play Turnkey
Many features to meet your needs
The Must Have: Push Notification, Poll, Interstitial ...
Filters & Targets
Segmentation by type, device, geolocation, path ...
Data Analysis
Accurate reports on returns obtained after each M-Marketing Campaign
Customizing Marketing tools
We adapt to the specifics of your business.
Sync with your tools
We quickly integrate our tools into your processes for more ease.
DEVELOP AN M-MARKETING STRATEGY
Interaction with your mobile users is a fundamental part of optimising the user experience, whether the purpose is to provide information, to maintain contact or to encourage loyalty.
Each m-marketing action has its own strategy: the right message to the right person at the right time in the right place.
Set up your mobile marketing campaigns using the tools available on our Mobile Backend platform:
Various Plug&Play modules: push notification, survey, interstitial, invitation to review, etc.
Module targeting and customisation
All our m-marketing tools in your app
A professional mobile marketing strategy closely connected to your CRM will provide you with the right information to ensure effective communication with your target.
ENGAGE YOUR MOBILE USERS
Improve the rate of user engagement of your mobile application and optimise ROI. Transform occasional users into regular users.
Quality, rapidity and upgrades are the key elements of your application to mobilise your users, but you must remember to remind them of this fact.
Each user is unique, so your marketing should be too!
With the Apps Panel platform:
Create advanced marketing scenarios to enhance your application and overall service

Broadcast personalised messages based on templates to create a strong sense of proximity with your target
Boost growth and loyalty among the users of your application
COMMUNICATE VIA PUSH NOTIFICATIONS
Push notifications are one of the pillars of your mobile communication strategy, so a complete, reliable and high performance solution is important.
With Apps Panel, push notifications are:
TARGETED

Choose from a number of targeting filters to create groups and achieve the audience that you want at any time.

EFFICIENT

Make the most of robust instantaneity: our platform can deliver several hundred thousand push notifications in less than a minute.

RELIABLE

Demand reliable, accurate message reception. Our strict verification processes guarantee faultless push notification deliverability.

ANALYTICS
Optimise ROI with a detailed report on each of your mobile marketing actions. This will enable adaptation of your transmissions to improve future campaigns.
Our service is compatible with the leading platforms: Apple, Android and Windows. Send your cross-device & cross-platform push notification campaigns in just a few clicks!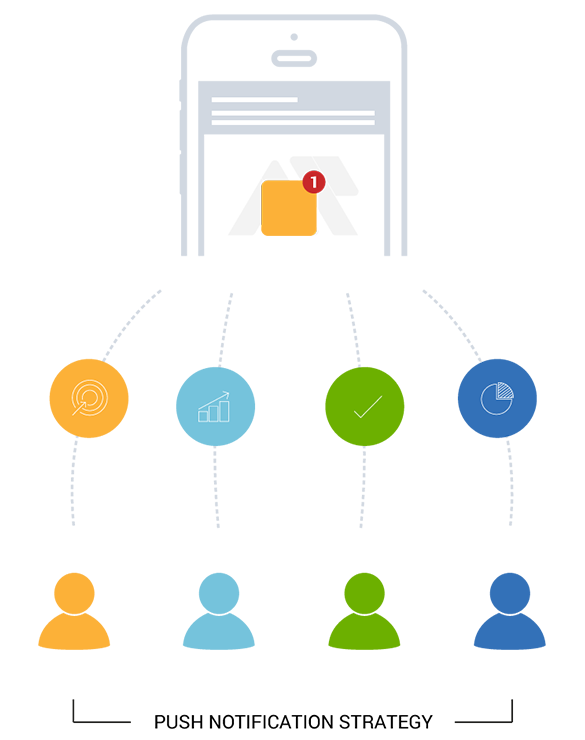 UNDERSTAND YOUR TARGET
Big Data now means you can know your users and their habits as consumers.
To ensure pertinent messages, do not miss your target!
The Apps Panel Mobile Backend offers an approach to this information via:
THE DEVICE CENTRE

The nerve centre of devices' technical information, offering a view of all the information collected and the subsequent formation of groups based on various criteria.

SURVEYS

Surveys enable the creation of in-app multiple-choice questionnaires to question users on the subjects of your choice.

ANALYTICS

Adapt your interaction scenarios by analysing your users' behaviour (e.g.: send a reminder to a user who did not continue one of your business processes to the end, such as an order tunnel).
The wealth of information on your mobile users will enable you to come up with personalised scenarios without having to modify your application.